em jay loves:
On top of spaghetti,
All covered with cheese,
I lost my poor meatball,
When somebody sneezed.
probably because she has been into saying "bless you!" whenever someone sneezes. we have a dvd of snuffy from sesame street singing it, and she wants to watch it a million times a day--just that part.
she also loves drawing apples... notice the little stem she adds to it:
joanne loves:

here's one of my favorite artists: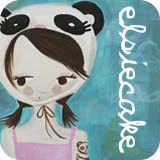 I have admired
elsie flannigan's
work for quite some time, and am
soooo
honored
to be featured in her always wonderful
"10 things I love sunday"
for this week (kiddo diy project)...made my day!!
Wonderful words by Albert Einstein...love it.
Strange is our situation here upon earth. Each of us comes for a short visit, not knowing why, yet sometimes seeming to a divine purpose. From the standpoint of daily life, however, there is one thing we do know: That we are here for the sake of others…for the countless unknown souls with whose fate we are connected by a bond of sympathy. Many times a day, I realize how much my outer and inner life is built upon the labors of people, both living and dead, and how earnestly I must exert myself in order to give in return as much as I have received.
seen
here
, and
here
and I absolutely adore this illustration by melanie richards
it makes me smile-- you can also see more of her work
here
have a wonderful week!